There are somehow more issues than ever facing the early years sector at the moment. The overwhelming whiteness of our speaker/writer/trainer circuit might not feel the most immediately urgent issue, but I do not think there is any hope for the sector of dealing with anything else if "we" (the relatively small amount of people who might read this via edutwitter) can't get a handle on this issue.
I would also suggest to other white people reading this that many colleagues of colour do not feel safe sharing what they honestly feel about Wanels and otherwise unrepresentative events. this fact alone is a symptom of things much deeper and harmful than we might want to believe.
Laura Henry has laid it out earlier this year and in 2016 as well quite plainly. Read these articles now if you haven't before, or read them again. Then read this Event Organising Toolkit from the BAMEed Network. Things really can't be made much plainer or accessible.
It's long past time for us to just "like" and RT these articles, the very small audience of established white speaker/writers/trainers who might read this can easily help rectify quite a bit of this issue if we just commit to not being on all White panels or training/writing rosters. Look up @nomorewanels on Twitter.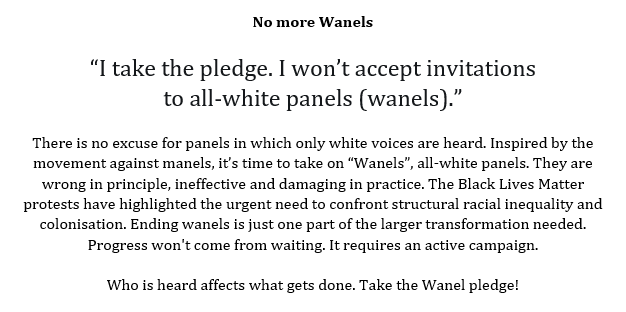 If it feels weird, "we" (white edutwitter people) can do it anyways and learn to deal with it. If the organisation asks for possible "recommendations" we can give them if people we know are up for queries. If we don't know anyone to recommend we can reflect on why this is, and then get to know people outside of our usual circles so we are in a better situation next time.
If we worry we are being tokenistic, good! We should not be just finding "anyone" who isn't white so we don't get "criticised online." But if we actually recognise the realities of privilege (white, male, class, straight, cisgendered etc) and oppression we can't keep pretending that our sector is currently telling or listening to the whole story (or that being racialised as white ourselves hasn't played a role in our professional advancement).
The sector will be better for it – and more equipped to truly serve all children and communities – in the long run.
Truly happy to publically or privately chat with anyone at all about any of this.